Somfy reaches for productivity with Sinterit's SLS technology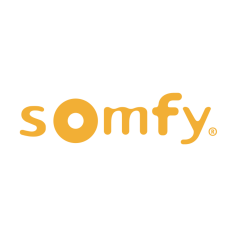 Summary
Rapid prototyping

Productivity – printing many pieces in one batch was a game-changer
Industry:
Electronics, consumer products
Somfy, the world leader in the automatic operation of house and building doors and windows, is also a tech-savvy company. Using additive manufacturing for prototyping purposes, Somfy took a journey from outsourcing to setting up an in-house 3D printing lab. Now it uses the Sinterit's Lisa PRO and Lisa X SLS 3D printers to achieve even more precision and design freedom.
With the peak of innovation in sight
Cluses is a small French town located in the Arve Valley, between Geneva and Chamonix. If you are a mountain biker, it will take you about two hours and 1500 meters of elevation to reach Tête de la Sallaz, where you can enjoy stunning Mount Blanc views. But if you decide to stay in the Valley, Somfy may be the right destination. Its vast complex overlooking Arve river marks the biggest company in town. And it is where for more than 50 years, the Somfy group has been improving living conditions using automation, by designing and developing solutions for comfort, security, energy savings, and personal autonomy.
The Research and Development Center based a few hundred meters down the road is the real house of additive manufacturing.
Home for additive manufacturing
The R&D building is impressive, but for a company that holds over 2280 patents, it is explainable. Besides this one in Cluses, Somfy owns 16 more innovation centers worldwide. Here, in France, you can find almost all of the available 3D printing technologies that fit into the company's agile and innovative thinking.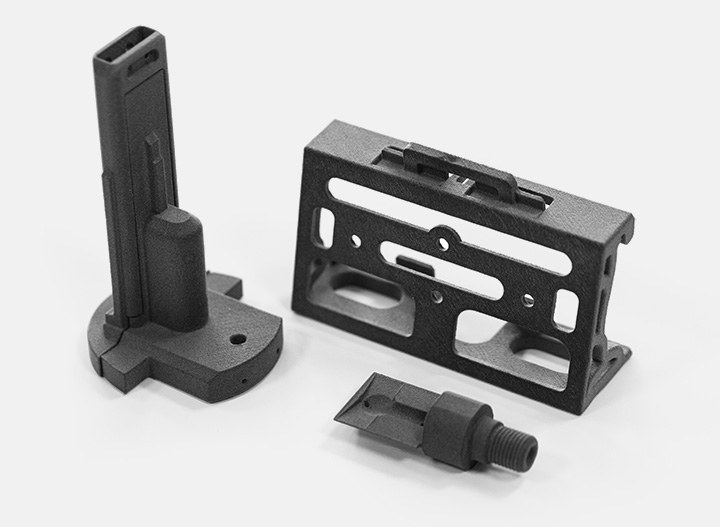 Learn more about Lisa X
Are you ready to meet 3D printer ideal for your needs?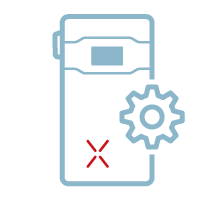 From FFF (FDM) to SLS
When Somfy launched the additive manufacturing department inside its R&D center, the idea was to open the mind to new possibilities. In the beginning, Somfy was using 3rd party suppliers to get their prototypes. Then the first FFF 3D printers paved the way to the company's HQ, while service providers still took orders for more demanding parts. After FFF 3D technology, SLA join Somfy's R&D Center, and with this, the evolution towards SLS (selective laser sintering) technology was only a matter of time.
"The first step is prototyping" – Jonathan Caillat, Additive manufacturing & mechanical workshop Manager, describes Somfy's idea of implementing 3D printing in its processes. "But using additive manufacturing to design new products or to make the existing ones better is just the starting point. Making parts for factories is the second step. To do so, you need more materials, with different properties. This is what Somfy is doing right now. The final step is to make spare parts for the end users". – he adds.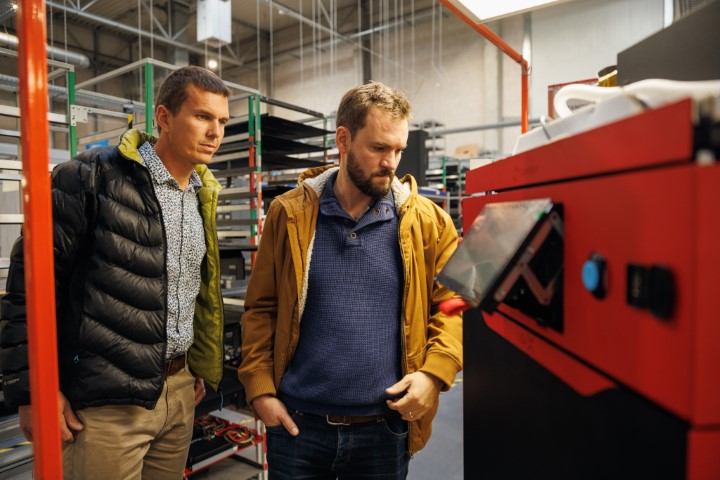 Why SLS?
"The main reason Somfy reached out for the SLS technology from Sinterit was productivity. Printing many pieces in one batch was a game-changer." – says Philippe Bendel, Additive manufacturing development Leader.
SLS 3D printing technology is best known to be a predictable additive manufacturing technology. Designers choose it for several reasons. In non-powder technologies, such as FFF (FDM) and SLA, you need to add special supporting structures to your model to prevent it from collapsing during printing. In SLS no supports are needed as the unsintered powder, surrounding the printouts in the printing chamber, becomes support itself. It also makes it easy to develop movable parts with complicated inner geometry or smooth surfaces – it is hard to even notice the layer. SLS printouts are known for their durability, and as the powder is reusable after printing, it becomes also an economical solution.
Speaking of costs, Sinterit's mission was to provide an open environment. This means that even though Lisa X producer has the largest SLS powder portfolio in the compact SLS 3D printing market, it doesn't limit its clients from choosing third-party materials, which makes it an even more flexible option.
Somfy uses Lisa Pro and Lisa X to prototype, but also more and more often. An example is a part, that was previously machined, as support for the label. Previously it was quite expensive to make. Now when it is 3D printed, the cost reduction is tremendous as well.
Another part is used for motor reductors. It is turning at high speed and distributes grease to the reductors. This little part, while made with CNC cost about 50-100 times more than when 3D printed with Lisa X. Not to mention, that the machine making of this part is extremely difficult, because of the needed precision. "With SLS we can provide productivity" – highlights Jonathan Caillat.
"We also make parts that are both 3D printed and machined, just like this device, where the housing is 3D printed, and the detachable electrical contents are machined"
What you can learn from Somfy, is that 3D printing technology is not only about machines. It is about the knowledge of how to use them, how to design for 3d printing what parameters to use, and how to position your model to achieve precisely the expected effect. Even if the 3D printer is intuitive, plug&play type that leads you through the whole process, as Sinterti's and also other SLS 3D printers do, you need to explore the options, gain cutting-edge design, and only then start printing.
Companies also choose compact SLS 3D printers, like Lisa PRO or Lisa X because Sinterit has the widest portfolio of such devices on the market. With its 500 engineers on board, the multidisciplinary and multi-skilled team uses Sinterit's SLS 3D printers to achieve the best results in product and electronic design.
"It was s a good way to start with a compact 3D printer. It gives room to improve, and also a good compromise regards on cost and possibilities" – sums up Jonathan Caillat.
Summary
Rapid prototyping

Productivity – printing many pieces in one batch was a game-changer