SLS 3D printer purchasing checklist
From this article you will learn the decision path of buying an SLS 3D printer. Going through the process you will also find questions to ask yourself when considering such an investment.
Need recognition
Acquiring a 3d printer is a process which starts from needing recognition. Even if you are sure that with 3D printing you are going places, there are still other options than having a 3D printer for your own. You could get printouts from service bureaus. But if you are looking for more independence, flexibility and long term ROI, owning a 3D printer may be the better call. If you already know that 3D printer ownership can help you realize your business, academic or other goals, you smoothly transition to the information gathering stage.
Gathering information
In this phase you either already decide what 3D printing technology is best for your needs, in this case you focus attention on finding the right 3D printer model, or you are still looking for the best solution. If the latter is where you are right now, this article will bring you more information about the difference between FDM and SLS technology, or give you just a quick comparison of SLA, FDM and SLS.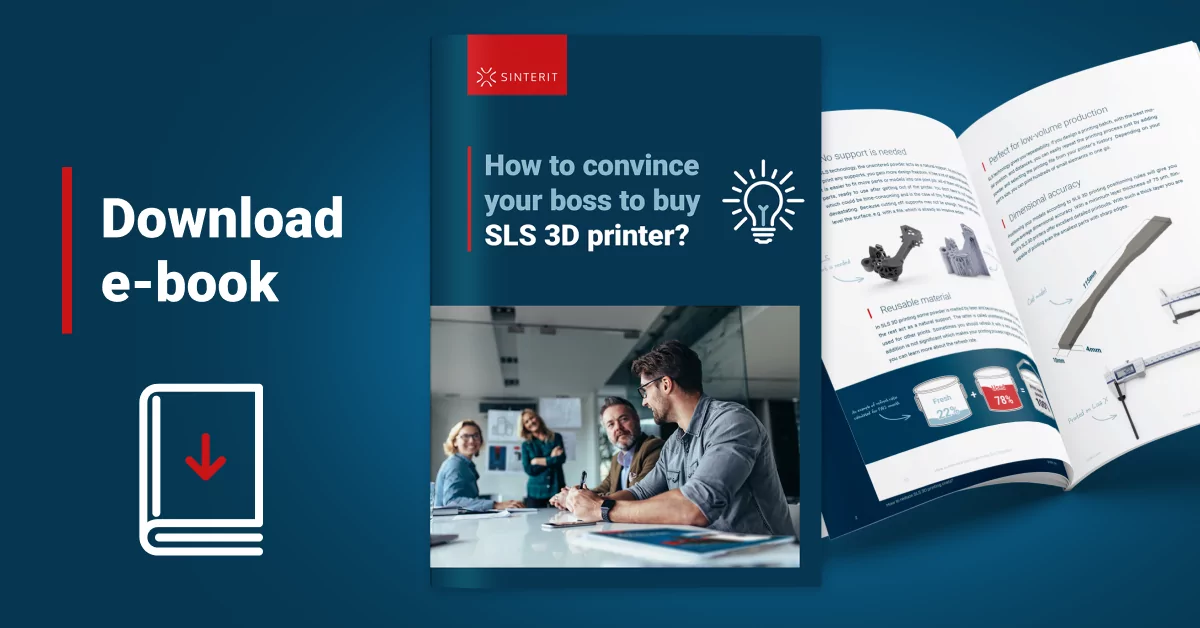 SLS 3D printer buyer's checklist
As Sinterit has been focused on SLS 3D printing technology since 2014, the day the SLS patent expired and producing compact 3D printers became possible, we anchor exclusively on this branch in the rich portfolio of 3D technologies.
Before you are ready to make your final buying decision, it is time for evaluation and searching for alternatives. SLS 3D printing technology has at least a few manufacturers that are worth checking out. The most popular producers have been verified by the market as solid and trustworthy, so to make a right buying decision focus mostly on your needs. We prepared a checklist that may help you narrow down the alternatives.
Do I need only an SLS 3D printer or the whole environment?
This is quite a commonly asked question. If you are new to 3D printing, there is certainly a need to arrange your workspace. You will need at least some space and basic tools to do post-processing. In the case of SLS technology it is mainly getting your printouts from a cake (as the block of unsintered powder that comes out of the printer is called). If you aim for faster and more precise post-processing, then you will need also few helpful tools such as PHS (Powder Handling Station), equipped with a special SLS-ready vacuum cleaner, and sandblaster – to finish your printouts.
What is the size of your printouts?
Most compact SLS 3D printers have a build volume starting from 110 x 110 x 110 mm to about 165 x 165 x 300 mm. If it is not enough you should aim for a larger, industrial SLS 3D printer. Those types of printers start from about 200 x 200 x 200 mm with the largest of about 500 x 500 x 500 mm.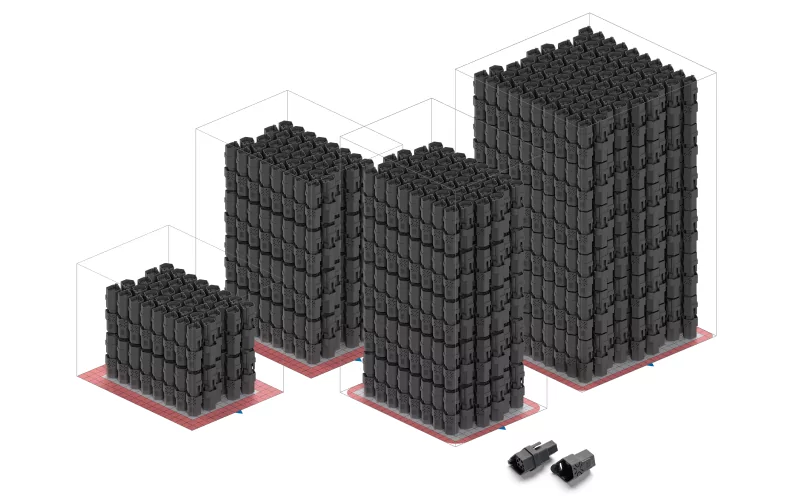 What build volume to consider?
There is an enormous gap between the volume of the smallest compact SLS 3D printer (about 1300 cm3), smallest industrial SLS 3D printer (13 000 cm3) and the biggest one (130 000 cm3).
We checked sizes, volumes and prices of about 10 SLS 3D printers from that range. What is interesting, the prices rise accordingly to the volume, so if you need to pay about 6000 USD for 1300 cm3 of volume, in the case of having 130 000 cm3 you will pay over 600 000 USD. But is the total available volume such an important factor?
Let's check the difference between diagonals in those three scenarios. Diagonal length will show us what is the longest object you can possibly print with your SLS 3D printer. The smallest compact SLS 3D printer will print a 19 cm long item, the smallest industrial grade SLS 3D printer will deliver a 43 cm long printout, while the biggest available one will print an object that is 86 cm long.
Why did we just do all of that math? To show you that a printer with 100 times larger volume will deliver only 4,5 times longer objects. So if you are not interested in a mass production with your 3D printer, focus on other factors than max volume.
From our experience, most of the clients of compact SLS 3D printers don't use the whole available build volume. It is cost effective to print smaller objects in a smaller printer as you use less powder. Even if it is reusable, every printing process ages the powder, so bigger printer may not be a wise choice if you are not planning to print relatively big objects.
Is the number of available materials important?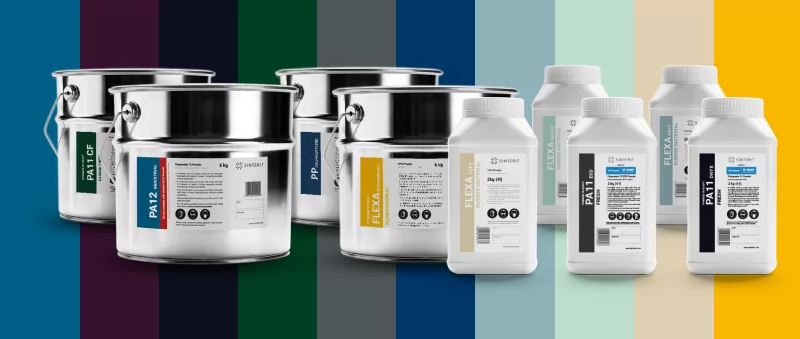 Benchtop SLS 3D printers producers increase the number of available materials. It may not be as large as in industrial printers, but with ten different types of powders, it makes the offer more suited to a variety of customer needs.
The choice of powder depends on the application. If you are mostly prototyping, then PA12 will be probably the best choice.Most of the SLS 3D printers users focus on a nylon – PA12 powder. Even over 90% of selective laser sintering printouts are made with this powder. Another important material is PA11, which is also a rigid one but more durable.
But do you consider using the full potential of the printer in the future?
To achieve more diversity with SLS 3D printers, TPU powders are adding a lot, when you need flexible, rubber-like items. Industrial grade SLS 3D printers have the biggest range of available powders. In the compact SLS 3D printers segment it is a little bit more complicated because of a lower laser power which excludes some kind of powders. It is still doable with those printers that are equipped with nitrogen installation.
Another powder related matter is the melting point temperature of the materials. Because TPU powders have much lower melting point than PA12 or PA11, you must be sure to clean your printer very carefully when changing the powder. In this article about multi-material SLS 3D printers you can find more about it.
What about the software?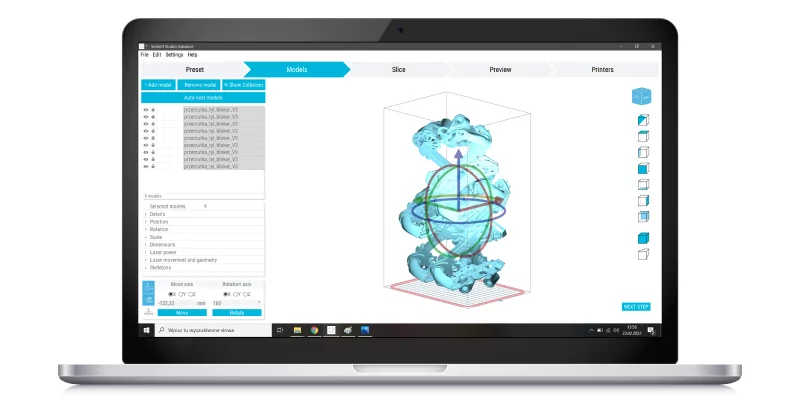 It is important to purchase a 3D printer that has its own software. In such high-tech technologies as SLS 3D printing, it is very important that the software and hardware of the printer are perfectly coupled with each other. Dedicated application is a basic requirement.
Some 3D printers producers deliver software in the subscription plans. You need to pay every month or every year to be able to print. In the case of Sinterit Studio you only pay once. You don't have to remember about upcoming payments.
Do I need an open environment SLS 3D printer?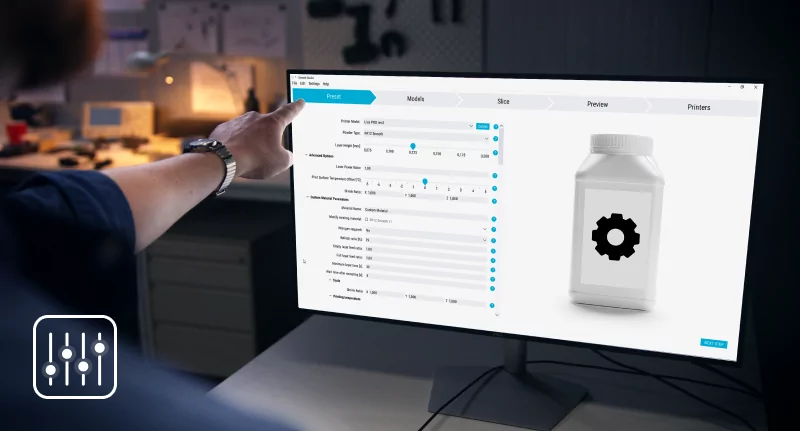 What is an open environment in SLS 3D printing? If you are familiar with the differences between Microsoft Windows and macOS, you will understand the foundations of open environment in SLS 3D printing. Basically, it is a freedom to experiment with other materials and freely change multiple parameters of the printer itself. Printer's such as Lisa X from Sinterit are examples of such an approach. For users that would like to follow the optimal printing path designed by the manufacturer – just follow the instructions. But if you need more, change the mode to advanced and experiment.
If you, on the other hand, like to work in a completely closed environment, using only certified powder provided by the printer's manufacturer, there are also such devices available on the market. So it is your choice according to actual, or future needs.
Alternative evaluation
Entering this phase you already gathered most important information about the needs your future SLS 3D printer must answer. Now it is time to look for alternatives. You can find a few buyers guides available online (All3dp, Aniwaa). Those are helpful sources of knowledge, but are also limited to the main features. To get more info the best way is to contact each manufacturer directly, ask precise questions and talk openly about the application the SLS 3D printer will be used for.
If the producer gives an option of a test print or sends samples, go for it. It is important to verify if the printout quality, edge sharpness and other parameters matches your needs.
Purchase decision and ordering the printer
After choosing a final model it is good to find an official distributor located near you. The support you will get from a local company that has knowledge about the printer and offers after sales support is important, especially if you want to communicate in a local language. It is also important in countries that have special laws, especially concerning purchasing machines equipped with laser beams. Besides that, be in touch with the original producer, join webinars, request additional instructional materials, and follow updates of the software to keep your printer up-to-date. But most of all, print and optimize your work.